Luxury on a Budget – with Airbnb at the Grand Ferdinand Vienna
The 8-bed dorm room at the Grand Ferdinand lets you enjoy the luxuries of the independent hotel starting from € 30 per night!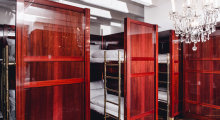 Good news for anyone who's ever wanted to stay at a hotel on Vienna's elegant Ring Boulevard without having to dig deep into their savings: the Grand Ferdinand offers an elegant shared room for eight with all kinds of amenities, booked via Airbnb.
Bunk beds in polished mahogany, elegant crystal chandeliers by Lobmeyr, Gubi mirrors; rain showers, air conditioning and, of course, free wifi. The dorm room at the Grand Ferdinand is done in a style reminiscent of the opulent luxury of turn-of-the century train travel and provides the big Grand Ferdinand feeling at a much smaller price.
The Grand Ferdinand experience naturally includes access to the exclusive Grand Étage with its rooftop pool, as well as use of all the other amenities the independent hotel has to offer.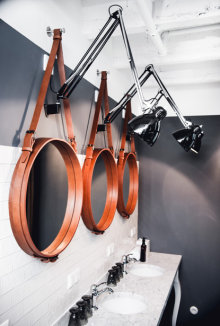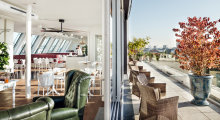 This luxury hostel is the perfect home base for your trip to Vienna
The hotel on the Vienna Ring Boulevard is the perfect home base for Vienna getaways or a stop-off on a Europe round-trip. Backpackers and singles especially will enjoy their stay at the Grand Ferdinand dorm room.
From the hotel's central inner-city location, you can quickly get to most of Vienna's many cultural highlights — the museums, the theatre and opera venues, as well as the hidden gems of Vienna's narrow and winding alleyways.
The city's excellent public transport system conveniently takes explorers to the recreational green areas at the outskirts of Vienna or for a day trip out of town.
Indulgence has no price tag
Florian Weitzer, the proprietor of the Grand Ferdinand, enjoys breaking new ground with his hotels in Vienna and Graz. So, it comes as no surprise that he deliberately opened his independent hotel to people on all kinds of budgets.
"In many big hotels, exclusivity is conveyed in every little thing," says Weitzer, "I like to see a hotel as a mission in culture, and that really should be accessible for everyone."
This is why the Grand Ferdinand's culinary experiences are varied and accessible as well, no matter the size of your wallet. At Gulasch & Söhne, the hotel's very own luxury "Würstelstand" sausage stand, you can enjoy both a glass of champagne for € 15 and a "pfiff" (a small glass) of Velkopopovický beer for € 1.90.
"At the Grand Ferdinand, anyone can enjoy life and Austrian culture whichever way they like and I sincerely hope that the hotel will serve them well in their quest, no matter their budget," says Weitzer.

Book your stay directly via Airbnb
Two communal showers, two restrooms and multiple sinks ensure that the Grand Ferdinand's shared room doesn't get crowded. Private lockers with a safe provide room for personal belongings. The dorm room is further distinct from regular hostels through the little hotel amenities that make travelling so much more pleasurable: things like shower gel, body lotion, towels and hair dryers.
The dorm room at the Grand Ferdinand can only be booked via Airbnb, starting from € 30 per person per night. Bunks in the 8-bed dorm room can be booked for individual travellers or for groups of up to four people.*
Sipping cocktails at sunset by the rooftop pool and then sinking into a comfortable bed at the Grand Ferdinand — the dorm room puts such indulgent experiences within reach for everyone. Book your stay via Airbnb right now and you'll soon be enjoying Vienna with a side of luxury!
*Please consider that you'll be sharing the dorm room with other travellers. We hope you understand that it's not possible to bring children under the age of ten to stay in the dorm. The minimum age for a stay in the dorm is 17. Minors travelling alone will need to bring written permission from their parents. Parties and visitors are not permitted in the dorm room.